Info
What is a Lazy Susan and what is its history? How and what is its origin?
All kinds of questions we would like to answer in the section: Lazy Susan Info.
Lazy Susan
Making it easy
A Lazy Susan, also known as turntable or Lazy Susi, is a handy device for your dinner table.
Introduced in Europe by chinese restaurants, we are now discovering the functionality in our own homes and become fond of it more and more.
Reaching out for sauces, snacks and herbs are history with the introduction of a turntable on the table top.
As traditional Lazy Susans are still made out of wood, we see them manufactured in the modern age out of all kinds of materials like; glass, granite and metal.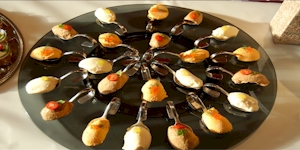 Lazy Susan Buffet
Ideal for weddings, parties and large buffets as presentation for snacks (hors d'oeuvres) and sauces. All easy to get because of the ability to turn the table.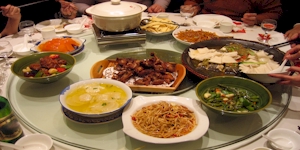 Lazy Susan Dinner
A nice dinner with family or friends around the table. Next to a great presentatioln, all ingredients and snacks on the turntable are within reach for every one.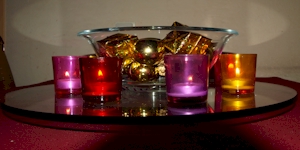 Lazy Susan Deco
Next to being extremly functional, the Lazy Susan is off course very well suited to be a decorative object or part of it. With a vase, flowers or candles on top of it, its an eye catcher.